Innovation and digitisation are key to Europe's future competitiveness, industrialists say

Industry remains the backbone of the European economy, contributing more than 30 per cent of GDP growth and more than 80 per cent of private R&D spending, a report published by the European Round Table of Industrialists (ERT) shows.

The document warns against protectionism and a rapidly increasing number of potentially trade restrictive measures. As a main conclusion of the report, innovation and digitisation, the core levers for future growth and competitiveness, require a serious rethink of national and European policies to prevent the region from falling behind.

Commenting on the report, Kurt Bock, chairman of BASF and chair of the ERT Competitiveness Working Group, said: "The European Union is a unique achievement bringing European countries closer together and improving the welfare of its citizens overall. We must not forget this and must build on the benefits of a strong Europe. However, past achievements are no guarantee of future success. New competition is on the rise, global growth expectations are decreasing and most of the growth is taking place outside Europe. To adapt to these new developments Europe must increase efforts in the field of innovation, digitisation and strive for free trade and access to foreign markets."

To boost competitiveness, ERT calls for: a) a strengthening of the internal market, by completing the Digital Single Market, the Energy Union and the Capital Markets Union; b) stimulating innovation and adoption of new technologies as the main driver of sustained economic growth in Europe. Evaluation of every legislation and policy measure with respect its impact on innovation throughout the policymaking process; c) ensuring access to foreign markets while maintaining a level playing field; d) unleashing the benefits of digitisation by investing in digital infrastructure, key technologies and skills development; supported by a robust regulatory framework, covering security in cyberspace; e) enabling start-ups to scale up by boosting entrepreneurship, access to funding and cutting red tape.

---

---

|

Daily Info

Ratio between pensioners and employees could double by 2032 as compared to 2014, pension fund manager says

The ratio between pensioners and employees could double by 2032 as compared to 2014, which will cause problems in covering the necessary pension payments by the employees for ...

Damages to electricity networks caused by severe weather conditions do not increase the distribution tariffs, says ACUE

Lately, Romania confronted with extreme, unpredictable meteorological phenomena that have caused major damages, in large areas, to electricity distribution networks.

Orbis turnover increased to 62 million Euro in Q1

The Orbis Hotel Group turnover increased by 4.4 million Euro in Q1 2017 up to 62 million Euro, a press release shows. Group's EBITDA in the first quarter totalled 8.9 millio...

Deloitte Romania appoints Alexandru Reff as new country managing partner

Alexandru Reff has been appointed country managing partner Deloitte Romania and Moldova, effective June 1, 2017. He will succeed Ahmed Hassan, who takes on a regional leadersh...

Cushman & Wakefield Echinox expands its retail department with new appointment

Cushman & Wakefield Echinox consolidates its retail team by recruiting Dana Radoveneanu, a specialist with six years of experience of the local retail market, a press release ...
advertising
---
advertising
---
advertising
---
advertising
---
More on News
Iohannis: I explained to EU leaders multi-speed Europe is not a good solution, could end in split-up

President Klaus Iohannis, speaking after the European Council's meeting, said that he explained to EU leaders that a multi-speed Europe is not a good solution and that in e...
BRUA pipeline to operate in 2020 when Exxon, Petrom will extract Black Sea gas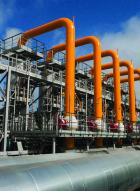 The works at the BRUA (Bulgaria - Romania - Hungary - Austria) pipeline will start at the end of 2017, and the gas pipeline will become operational in 2020, when ExxonMobil...
Ninety-seven per cent of household waste ends up in landfills, says ARBIO

As much as 97 per cent of Romania's household waste ends up in landfills, and Romania could be fined starting in 2020 about 500,000 Euro per day if it fails to bring the nu...
Net investment in national economy, down 3.3 per cent in 2016

Net investment carried out last year in Romania's national economy stood at 70.281 billion RON (15.6 billion Euro, declining 3.3 per cent from 2015, according to data relea...
Romania has significant potential in agriculture, but low productivity, says PwC Romania

Romania is one of the European countries with the highest potential in agriculture with the sixth biggest agricultural use area in the EU, but it has a low productivity due...
Commercial property investments in Romania exceeded 850 million Euro last year, says DTZ

In 2016, the total volume invested in commercial property in Romania exceeded 850 million Euro, a DTZ Echinox report shows. Bucharest attracted 660 million Euro, which repr...
PM Grindeanu in Brussels: Policies on cohesion funds, common agricultural policies important to Romania
The policies regarding the cohesion funds and the common agricultural policies are important to Romania, Prime Minister Sorin Grindeanu said in Brussels, in talks with seve...