PM Grindeanu wishes for 2019 with no CVM for Romania

Premier Sorin Grindeanu stated, on Thursday, at the headquarters of the European Commission, that he wishes in 2019 the Cooperation and Verification Mechanism (CVM) for Romania to be lifted, according to Agerpres.

"I can assure you that our wish is to have the correct speed, so that the next report to be a very good one. I wish a normal 2019, with no CVM," said Grindeanu, in Brussels, during a joint press statement with Frans Timmermans, first vice president of the European Commission.

Grindeanu specified that he talked with Timmermans on the implementation stage of the CVM′ measures.

"We will send, in the next period, the clarifications we wish to have on the CVM′s recommendations, so that to know exactly what we have to do and do it the necessary steps, so that to achieve as transparent, as open as possible, with the right speed, what we have to do and will send to the European Commission soon these clarifications that we want," Grindeanu explained.

According to Frans Timmermans, the European Commission will answer the request of Premier Grindeanu, so that the Romanian Executive to know what must do.

Timmermans commented: "I accepted what Mr Prime-Minister said, that not all is very clear in the CVM′s reports. I took the responsibility that we will clarify indeed what is to be clarified, so that the Government to know very clear what must do. I have the firm opinion that, if you continue this roadmap, you will get there where we want. Where do we want to get? In a situation when the fight has so much success that it reaches a point of no return. With no connection to the political discussions, let it be clear - that it is a manifestation of the people, the Government and the Parliament of Romania. It is desired to get to an irreversible situation and the citizens of Romania to be sure that their country is not anymore in the danger of corruption. That's what the CVM is about."

---

---

|

Daily Info

Ratio between pensioners and employees could double by 2032 as compared to 2014, pension fund manager says

The ratio between pensioners and employees could double by 2032 as compared to 2014, which will cause problems in covering the necessary pension payments by the employees for ...

Damages to electricity networks caused by severe weather conditions do not increase the distribution tariffs, says ACUE

Lately, Romania confronted with extreme, unpredictable meteorological phenomena that have caused major damages, in large areas, to electricity distribution networks.

Orbis turnover increased to 62 million Euro in Q1

The Orbis Hotel Group turnover increased by 4.4 million Euro in Q1 2017 up to 62 million Euro, a press release shows. Group's EBITDA in the first quarter totalled 8.9 millio...

Deloitte Romania appoints Alexandru Reff as new country managing partner

Alexandru Reff has been appointed country managing partner Deloitte Romania and Moldova, effective June 1, 2017. He will succeed Ahmed Hassan, who takes on a regional leadersh...

Cushman & Wakefield Echinox expands its retail department with new appointment

Cushman & Wakefield Echinox consolidates its retail team by recruiting Dana Radoveneanu, a specialist with six years of experience of the local retail market, a press release ...
advertising
---
advertising
---
advertising
---
advertising
---
More on News
Iohannis: I explained to EU leaders multi-speed Europe is not a good solution, could end in split-up

President Klaus Iohannis, speaking after the European Council's meeting, said that he explained to EU leaders that a multi-speed Europe is not a good solution and that in e...
BRUA pipeline to operate in 2020 when Exxon, Petrom will extract Black Sea gas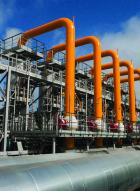 The works at the BRUA (Bulgaria - Romania - Hungary - Austria) pipeline will start at the end of 2017, and the gas pipeline will become operational in 2020, when ExxonMobil...
Ninety-seven per cent of household waste ends up in landfills, says ARBIO

As much as 97 per cent of Romania's household waste ends up in landfills, and Romania could be fined starting in 2020 about 500,000 Euro per day if it fails to bring the nu...
Net investment in national economy, down 3.3 per cent in 2016

Net investment carried out last year in Romania's national economy stood at 70.281 billion RON (15.6 billion Euro, declining 3.3 per cent from 2015, according to data relea...
Romania has significant potential in agriculture, but low productivity, says PwC Romania

Romania is one of the European countries with the highest potential in agriculture with the sixth biggest agricultural use area in the EU, but it has a low productivity due...
Commercial property investments in Romania exceeded 850 million Euro last year, says DTZ

In 2016, the total volume invested in commercial property in Romania exceeded 850 million Euro, a DTZ Echinox report shows. Bucharest attracted 660 million Euro, which repr...
PM Grindeanu: We must back European project strengthening, not multi-speed Europe

Romania's consistent stance - whether expressed by the country's Presidency, government or Parliament - on the future of the EU in the Brexit context is to support the stre...