Telekom Romania and Alior Bank launch Telekom Banking
Telekom Banking, a digital financial project in Romania, developed within the partnership between Telekom Romania and Alior Bank, one of the largest banks in Poland, aims to meet the needs of consumers for fast, easy-to-use products and services, available wherever and whenever.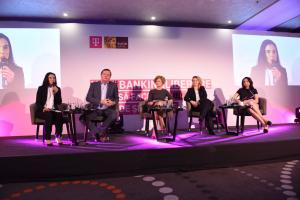 "Telekom Banking is the result of Telekom Romania's promise to support the creative freedom of its customers and partners in everything they do," said Miroslav Majoros, CEO Telekom Romania. "When we speak about Telekom Banking, we speak about a banking services offer willing to meet the fundamental expectations of its clients; banking services designed to cherish and value the creative potential of its clients. We are glad that through our partnership with Alior Bank, we are now at the forefront of the simple and easy to use banking services. What we aim is to provide services fitted to the new IT&C culture that we live in today. Setting you up with all the possibilities that new technologies offer means to exploit the possibility of accessing today′s innovation. The banking experience of Alior Bank and the technological and innovative vision of Telekom Romania made possible the birth of a banking services offer dedicated to the residential segment, capable to shape the future of the Romanian financial and banking segment."
Telekom Banking services are launched gradually, starting two pillars - daily (primary) banking and a new solution on the Romanian market, online exchange platform.
With Telekom Banking, customers can open current accounts in RON, EUR, USD and GBP, attach debit cards to them and have 24/7 access to their funds with the internet and mobile banking solution.
---
---
|
Daily Info
Transelectrica accelerates investments to increase the energy system safety in Dobrogea
The National Power Grid Company Transelectrica marked the completion of the second stage of the project of rehabilitation of the Station Transformation 400/110/20 kV Tulcea We...
CTP: smart expansion in a growing market
CTP, the most dynamic logistics and industrial parks developer in the country, will soon become a "millionaire" in square meters of premium logistics space. The company experi...
New regulations adopted by ANRE will have a strong negative impact on consumers and endanger 4.500 jobs, says ACUE
The electricity distributors members of the Federation of Associations of Energy Utility Companies (ACUE) are deeply concerned about the negative impact on networks and consum...
President Iohannis: Interconnection projects revealed at Three Seas Initiative summit are a top level political signal
The list of priority interconnection projects presented within the Summit of the Three Seas Initiative is "a top level political signal", on Tuesday stated Klaus Iohannis, in ...
Vodafone to lay off 1,700 service center employees in Romania, India and Egypt
Vodafone, one of the biggest telecom groups in the world, will lay off 1,700 employees from its service centers in Romania, India and Egypt, in this financial year, the group'...