Telekom Romania and Alior Bank launch Telekom Banking
Telekom Banking, a digital financial project in Romania, developed within the partnership between Telekom Romania and Alior Bank, one of the largest banks in Poland, aims to meet the needs of consumers for fast, easy-to-use products and services, available wherever and whenever.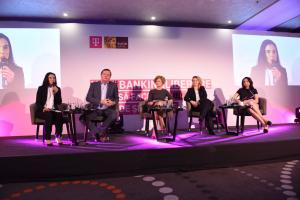 "Telekom Banking is the result of Telekom Romania's promise to support the creative freedom of its customers and partners in everything they do," said Miroslav Majoros, CEO Telekom Romania. "When we speak about Telekom Banking, we speak about a banking services offer willing to meet the fundamental expectations of its clients; banking services designed to cherish and value the creative potential of its clients. We are glad that through our partnership with Alior Bank, we are now at the forefront of the simple and easy to use banking services. What we aim is to provide services fitted to the new IT&C culture that we live in today. Setting you up with all the possibilities that new technologies offer means to exploit the possibility of accessing today′s innovation. The banking experience of Alior Bank and the technological and innovative vision of Telekom Romania made possible the birth of a banking services offer dedicated to the residential segment, capable to shape the future of the Romanian financial and banking segment."
Telekom Banking services are launched gradually, starting two pillars - daily (primary) banking and a new solution on the Romanian market, online exchange platform.
With Telekom Banking, customers can open current accounts in RON, EUR, USD and GBP, attach debit cards to them and have 24/7 access to their funds with the internet and mobile banking solution.
---
---
|
Daily Info
Radiocom gets EIB funds for the digitalisation of Romania's terrestrial broadcasting infrastructure
The European Investment Bank (EIB) is lending 9.78 million Euro to Romanian public company Societatea Nationala de Radiocomunicatii SA (Radiocom) to partially finance the digi...
Companies are investing 12 per cent of their annual turnover for business digitalization, ARIES study shows
Companies in the Northwest region of Romania invest annually, on average, 12 per cent of the turnover for digitalization. The share of current turnover due to digitalization i...
CE Oltenia denies media allegations, says it has no state debts
State-owned company CE Oltenia denies the allegations in the local media, according to which it has debts to the state budget worth over 100 million Euro, a press release show...
Valentin Radu receives new mandate as chair of Electrica's board of directors
Electrica's board of directors decided to appoint Valentin Radu as chair of the board of directors for a mandate of one year, starting with 12 December 2018.
Christmas leads to material implications for retail and office market players, says Colliers
December is a time for Romania to score positive results for sales at supermarkets, hypermarkets or discounters as well as for gifts, offering generous returns for retailers i...