Immofinanz: Constant, visible shift towards energy efficiency on the local office sector
Romania's strong economic growth in 2017 placed the country in a leading position in the CEE region and the trend is expected be sustainable over the next years, Christian Traunfellner, Head of Office Asset Management, Immofinanz told The Diplomat-Bucharest.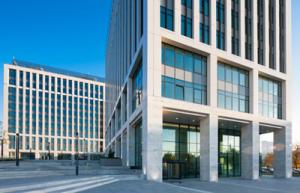 "The real estate market has also been growing, with a transaction volume of approximately one billion Euro in 2017 compared to 714 million Euro in 2016," said Traunfellner. "While transactions on the office market decreased last year, there is an increasing need for high-quality office properties. The regional picture is not much different, across the 'Immofinanz countries' we are noticing a rising occupancy rate for our properties. The trade sector has seen a strong advance last year, based on increased purchase power. The economic growth also makes Romania a favourable environment for foreign investments; during last year several large international companies have either launched operations here or announced their intention to do so."
According to Traunfellner, there is a constant, visible shift towards energy efficiency on the local office sector, with developers understanding the value of providing modern, energy and economical spaces.
"Green buildings are the sustainable offices of the future, something which we are applying to all our office projects, from the new developments such as myhive Metroffice, to our standing properties, in which we constantly invest and improve," said Traunfellner. "In 2017 we received three green buildings certificates: a BREEAM Excellent for S-Park buildings, and two LEED Gold certificates for Metroffice and Victoria Park. Being part of a large international company is a distinct advantage, as it offers us direct access to state-of-the-art international know-how, and best-practice sharing is always taking place between the markets on which we are present."
Traunfellner mentioned that companies from the IT&C and outsourcing industries continue to drive the demand for premium office spaces: "As the labour market in these sectors is increasingly competitive, companies are more and more focused on attracting and keeping talent. This translates into a strong focus of tenants on the needs and well-being of their employees, and office spaces play a crucial part in this. In this context, offices have become more than workplaces. They have become a platform through which businesses can display their values, promote their culture and share their story. At Immofinanz we understand this shift in tenant philosophy and are working hard to translate this into customized office spaces. Last year we launched our international office brand, myhive, which we have already rolled-out in several core markets of Immofinanz. myhive offices are particularly effective in providing employees with a pleasant and socially-oriented environment with a hotel-like design and attentive service. We have already rolled-out the myhive concept in three office parks – S-Park, Iride Business Park and Metroffice - and we are seeing a very good response from tenants."