The Chinese endeavour

The blunt figures show that in the first five months of 2016 the bilateral trade volume of Romania and China reached 1.76 billion USD, and China has become the ninth largest trading partner of Romania globally

---

---

|

Daily Info

Porsche Engineering Romania aims to reach 120 employees in 2018

Two years since its opening in Cluj-Napoca, Porsche Engineering Romania, the local subsidiary of the global engineering services provider, has expanded its scope of work in th...

New bill regulating activity of Uber, Taxify in Romania, submitted to Parliament

A draft bill regulating ridesharing services in Romania, such the ones provided by Uber or Taxify, has been submitted to the Parliament by several MPs from both ruling and opp...

Political risks in CEE on the rise but no impact yet on local businesses, says Coface

A recently released report by Coface assessing the political risks in the Central and Eastern European countries (CEE) shows that, while social risks are low, due to the favou...

Facebook posts record revenues for Q1, despite data privacy scandal

Facebook Inc. shares rose on Wednesday after the company posted a surprising 63 per cent rise in profit as well as an increase in users, despite the fact that it has been goin...

New car sales increase by over 20 per cent in Romania in the first quarter

New vehicle sales in Romania increased by 20.3 per cent in the first quarter of this year compared to the same period of 2017, reaching almost 36,000 units, according to data ...
Advertising
More on Features
Digital Finance - driving force for the banking industry

Digitalization is radically transforming the banking industry, enabling new products, services and business models. This transformation will take time to complete, forcing ...
Global efforts to develop low-carbon, energy-efficient solutions

Interview with Robert Tudorache, Secretary of State, Ministry of Energy
Fresh Delivery (P)

Up to speed with the courier sector in an interview with Gian Sharp, CEO at Urgent Cargus
ANCOM: We look at the postal services market in the light of e-commerce developments

Romania's courier business is pretty dynamic these days and tends to become more and more high-tech as players are trying to find innovative solutions to keep up with users...
High potential for sustainable growth on Romanian FM market

Facility Management is still a developing market in Romania, with a lot of challenges to overcome. The Romanian Facility Management Association (ROFMA) analyses the relevan...
Rising potential for green developments

With GDP growth outperforming neighbouring CEE countries by a significant extent, 2017 was very good for the real estate market in Romania, especially for the office, inves...
EnergyPal: The market must invest in innovation and develop worker qualifications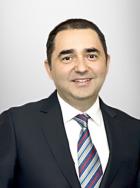 Romania's facility management sector in 2017 has seen changes in terms of increased market dynamic due to new office developments and also logistic sector growth, according...