Romania, Czech investors' reliable partner
Romania is not inch-perfect, but it still counts as a good destination on the foreign investor's map, as confirmed by the Czech community present at the second edition of the roundtable "Czech Investments in Romania", organised by The Diplomat - Bucharest and the Embassy of Czech Republic in Bucharest. What did the market bring this year? By Alexandra Cioboata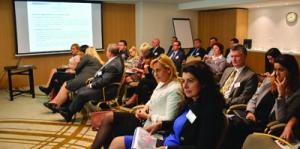 lthough it still faces some challenges, Romania is a much more stable, predictable and reliable country for investors this year due to its positive macroeconomic outlook, coming from the highest economic growth within the European Union, and also due to both fiscal relaxation and human resources, which still bring a good mix between skills and cost. In addition, sectors such as IT, car manufacturing, aerospace and agriculture, which have witnessed high increases in the past years, are expected to grow rapidly in the following period and might be of interest for Czech investors. Nevertheless, the market needs to become more competitive and, in order to attract further foreign investment, a public-private joint effort is needed. These were the main conclusions of the second conference dedicated to Czech investments in Romania.
The event was organized in mid-October by The Diplomat - Bucharest, the bimonthly business magazine in English, and the Embassy of Czech Republic in Bucharest, with the support of Czech-Romanian Chamber of Commerce. The project benefited from the support provided by the Ministry of Foreign Affairs of the Czech Republic, as well as by platinum partner CEZ Group and silver partners CTP and Noerr. The main purpose of the event, moderated by Philip Smitka, associated partner, Noerr, Prague Office, was to enhance the bilateral relationship between Romania and the Czech Republic in terms of both diplomatic and economic bonds.
There are around 900 companies with Czech capital registered in Romania, representing 0.42 per cent of total number of companies, with a subscribed share capital of 1.1 billion USD. The most important Czech investors on the local market include CEZ Group (energy sector), Eftec (chemical industry), Hame (food industry), CTP Park (real estate sector) and Ramira (fabricated metal products manufacturer). The Czech Republic ranks 14th in the top 20 foreign investors in Romania, while the bilateral exchange between countries has seen constant increase.
In 2015, trade with the Czech Republic was more than 3.1 billion Euro, increasing by 13.6 per cent compared to 2014. The Romanian exports to Czech Republic were more than 1.3 billion Euro, 15.68 per cent more than in 2014, while imports from the Czech Republic amounted to around 1.8 billion Euro, increasing by 12.08 per cent compared to 2014. Read below what main topics pundits and Czech players discussed and what advantages and disadvantages Romania offered this year.
Romania, a stable and predictable country
The investments between the Czech Republic and Romania, from one country to the other, are a very important part of the relations between countries, companies and people, said Vladimir Valky, the Ambassador Extraordinary and Plenipotentiary of the Czech Republic to Romania. He also noted that both the bilateral and political relations between Romania and the Czech Republic witness excellent development, believing that Romania will continue its path towards prosperity.
"We understand from the Czech point of view that the current investment environment in Romania is both very good and challenging," he says. "Romania is a very stable and predictable country. I believe Romania′s development will be the same as in the past few years, towards prosperity and without any turbulences concerning the economy. Of course, there are many problems that need to be solved as in any other country, but, in general, I think Romania is on the very good and right way. I think that these kinds of events contribute to attracting more investments to Romania."
Adrian - Miroslav Merka, MP, Parliament of Romania, Chamber of Deputies, Committee for Budget, Finance and Banks, also highlighted the positive economic outlook of the local market. "Romania′s macroeconomic situation is one of the strongest in the EU in terms of GDP growth, public debt, inflation and current account balance, with positive evolution expected by the credit rating agency," he said. "The 3.8 per cent GDP increase last year compared to 2014 was one of the highest in the EU, with positive forecast. We are looking forward to see future Czech investments on the local market."
Romania′s main asset: the human resource
Raluca Andreea Popa, counsellor within InvestRomania, the government organization dedicated to providing professional support and advice to foreign investors in Romania, highlighted the main advantages Romania can offer to foreign investors. The main asset of the local market consists of the human resource, she said, which brings a good mix between skills and costs. Romania has one of the lowest labour costs in the EU - five Euro per hour - while the national minimum wage is one of the lowest - 266 Euro per month.
"One of Romania′s main advantages for an investor is the human resource," she said. "We have a total number of 600,000 students enrolled in our universities, with the highest performance in the fields of IT, Science and Math. We are very proud to announce that the participation of women in science is very high, 53 per cent, compared to the EU average of 38 per cent, while in engineering - 30 per cent compared to the EU average of 25 per cent. Almost all our students, 97 per cent, know two foreign languages, an important skill for foreign investors."
In terms of infrastructure, Popa added that Romania has a highly competitive internet infrastructure, with one of the highest speeds in the world. Also, Romania has 70 industrial parks across the country, which offer good infrastructure for growth industries. "We are also well connected to other countries and also outside Europe, we have 14 airports and eight ports," she says. "Another advantage is that we have a direct connection with the Black Sea and also with the Danube river, which crosses our country. This river connects another six countries, so this is a good asset for transport."
The InvestRomania representative also talked about taxation. According to her, the Government is committed to reducing the tax burden. "This year marked the drop in VAT to 20 per cent, which will be followed by another drop to 19 per cent in 2017," she said. "In addition, VAT on food products is nine per cent, while the individual tax rate does not have any planned cuts for the near future. However, the new fiscal code has introduced a reduction of the dividend tax from 16 per cent to five per cent. Moreover, the Government support was raised this year to 145 million Euro from 100 million Euro."
Popa listed six further priority sectors which have witnessed high increases in the past years and are expected to grow rapidly in the following period as well: IT, which is one of the most performing sectors Romania has at this moment and which will be the enabler to Industry 4.0; car manufacturing, which has ten per cent of the GDP and 50 per cent of exports, with 600 factories; aerospace, as every new Airbus has a piece made in Romania; bio-industries; creative industries and agriculture, the latter having great potential for productivity gains.
EU funds and a structured approach
The availability of European funds to companies was another topic touched during the event. Marian Dobrila, vice president of the Romanian Consultants Association for Accessing European Funds, an association which has over ten per cent of the Romanian consultancy market, disclosed that the principles of European funds are different now than in the past. According to him, if some years ago what was important was that Romania absorbs EU funds, now the commitment of the authority and the programmes are designed in such a way that the funds have the biggest impact in the economy.
"The current absorption rate for the 2007-2014 programming period is 80 per cent - not final yet due to some dephased projects - but I think the figure will not surpass 85 per cent," he said. "In terms of the new programming period, 100 per cent absorption rate is a normal objective. We are condemned to think that we will be better this time, we do not have another option. However, this is not the main figure; the important figure is how much of this money will create added-value."
Dobrila also noted that the main opportunity to invest and apply for UE funds is now, as in 2018 and the following years are usually used to implement the projects that will be approved in the current years.
"It is important for a company that comes to Romania having in mind developing an innovative product to have a full picture of the available financing," he said. "The EU funds opportunities are now more complex. They are bigger and more favourable to Czech companies and any other international companies that are coming into Romania. The approach should be more structured. In addition, the company should know what leverage it could get from EU funds, national funds or state-aid schemes," he concluded.
CEZ, to invest seven billion Euro so far in Romania
CEZ Group, a state-owned company which produces, distributes and sells electricity, is the largest Czech investor in Romania, present on the local market since 2005, when it took over the power distribution company Electrica Oltenia SA. So far, the group invested in Romania around seven billion RON (more than 1.55 billion Euro), operating in the Dobrogea region the largest on-shore wind farm in Europe, with 600 MW total installed power from 240 turbines. Jan Dubsky, the CFO of CEZ Romania, disclosed the plans of the company for the coming period and the reasons for investing in Romania.
"For us, Romania is considered a success story," he said. "I would like to emphasise the high quality of the human resources here, especially with very good technical competences and very good knowledge of foreign languages. In addition, Romania is aligned to EU norms, which makes the country much more stable, predictable and reliable. (...) We are a long-term investor and a reliable partner to the local community," he added.
In 2015, CEZ started to make investments in e-mobility projects and launched two electric car charging stations in Craiova and Pitesti. For the following period, the company plans to extend its network. "Our aim is to encourage the community to use green energy during their day to day travels," said Dubsky. "For the future, because the pilot project was successful, we would like to build another two to three stations. We want - but it is not decided yet - to introduce our electric car charging stations either in Targu-Jiu, Drobeta-Turnu Severin, Alexandria, but Bucharest should also be considered."
The CFO went on to underline that CEZ is involved in energy efficiency projects also. In 2015, the company ran the pilot project for the energy lightning optimization in Giurgita locality, Dolj country, which turned out to be a success, according to Dubsky. CEZ introduced an efficient lighting system on the road between Segarcea and Barca, a project which decreased power consumption by 25 per cent.
"Our future investments are focused on building a better future," said the CFO of CEZ Romania. "We would like to be much more customer-oriented, to support investment in energy efficiency, electrical charging stations and, of course, as it is our core business, to invest in the development of the quality of the distribution network."
Renomia: Each client′s interest is a priority for us
Czech-based Renomia SRBA Insurance Broker has provided comprehensive risk management services and insurance for companies and their employees for more than 20 years. With more than 1,000 employees and mediated premium of 265 million Euro last year, the company has branches in Slovakia, Hungary, Romania, Bulgaria and Serbia, also planning to open in Poland and Croatia.
Gheorghe Grad, the country manager of the local branch, presented its main values. "Renomia is the largest insurance broker in the Czech Republic," he said. "Each client′s interest is a priority for us and customers can rely on professionals specialized in their area of business. We are experienced in both local and international insurance markets and we have a strong negotiating position."
Grad also mentioned the benefits which clients can get from their cooperation with the company. According to him, Renomia will settle the claims fast, deliver services to meet the customer′s requirements, and clients will be looked after by its team so that they can concentrate on their business. "We are protecting your interest, not our interest or the interest of the insurance company," he added.
Among the company′s clients one can find CTP Invest, CEZ Group, Skanska and Lidl. Moreover, 29,000 clients are corporate and entrepreneurs and 50,000 clients are private individuals.
Bilateral exchange between Arges county and the Czech Republic reached almost 360 million Euro last year
The exports of Arges county, located in the central-southern region of Romania, surpass five billion Euro, of which 60 per cent comprise means and transport equipment, 23 per cent - machinery and electrical equipment, six per cent - furniture, three per cent - base metals and articles thereof, with the rest including plastics, rubber-based articles, textiles and textile articles, optical and vegetable products.
The county has also exchanged products with the Czech Republic. In 2014 the bilateral exchange reached 328.3 million Euro, of which 61.7 million Euro were exports and 266.6 million Euro imports. In 2015, the figure grew to 359.1 million Euro (almost ten per cent increase y-o-y), of which 81.2 million Euro were exports and 277.9 million Euro imports, according to George Caval, president of Arges Chamber of Commerce and Industry. He also noted that the county offers many advantages to investors, including the proximity of Pitesti, the county seat, to Bucharest, the highly-qualified and specialized labour force, and the strong infrastructure development.
"Arges county has 587 km of European and national roads and 227 km of operational railways," said Caval. "Another advantage of our county lies in the construction of the Pitesti-Sibiu highway section, connecting the county to the western border of Romania. We also have a diversified industrial structure and farming, the most developed economic areas being engineering industry, electricity and heat, chemical and petrochemical, building materials, agriculture and tourism."
Arges county has 14,520 active companies, with a total turnover of 46.5 billion RON (around 10.5 million Euro). The employees engaged in the economic activity amount to 140,362 people, the unemployment rate is 5.02 per cent, while the GDP accounts for 7,450 Euro per capita. Out of total active companies, 37 per cent are involved in commerce, 31 per cent - services, 11 per cent - industry, eight per cent - construction, five per cent - tourism, four per cent - agriculture, forestry and fisheries and four per cent - research, development and high - tech.
Caval has added that the county has 1,404 foreign companies, of which 32 per cent come from Italy, 11 per cent - France, eight per cent - Turkey, six per cent - Germany and six per cent - Spain. Below three per cent, one can find also companies coming from Belgium, Greece, Holland, UK, China, Austria and US. However, he noted that there are also Czech companies there, including Eftec Romania, Gservis Rou, RC Development Tri Ro, RC Office Park Pitesti, Bascov Fotovoltaic and Green Energy.
Constanta Port, agriculture and tourism, among business opportunities in Constanta county
The GDP per capita of the Constanta county amounts to 10,058 Euro, while the main economic fields include the port services and shipping industry, oil processing industry, nuclear and wind energy production, tourism (Constanta county has 30 per cent of the whole accommodation capacity of Romania) and trade. Its main asset is Constanta Port, which is located on the route of three Pan - European Transport Corridors: Corridor IV, Corridor IX and Corridor VII (Danube), connecting the North Sea with the Black Sea, by Rhine-Main-Danube Corridor. It is the largest and deepest harbour at the Black Sea and the fourth largest European port, described as one of the main hubs for the region of Central and Eastern Europe, with an operation capacity of 120 million tonnes per year.
"Constanta county is very famous because we have the biggest port on the Black Sea in terms of capacity," said Ion-Danut Juganaru, acting president of Chamber of Commerce, Industry, Navigation and Agriculture (CCINA) Constanta, during the event. "One of the main business opportunities Constanta county offers to investors includes the Constanta Port development projects. For the time being, Constanta Port has several ongoing projects, in view of both building new facilities for cargo operation, and freight connection improvement between Constanta Port and hinterland. These projects are mainly located in the Southern port area."
Juganaru added that the Danube - Black Sea Canal can be also interesting for transport, agricultural and food processing industry upon further development, while tourism also needs un upgrade. "We have to create more entertainment and leisure units during the summer time," he says. "We have so many hotels here; some of them need investments, while others are for sale. We have also very good conditions for balneal cure practices."
Constanta county is well known for its agricultural land, with a total cultivated area of 484,100 hectares, of which 6,500 hectares are irrigated. The agriculture industry brings the main contribution to the county′s GDP. However, according to Juganaru, large investments are still necessary. "We have a problem in our region - insufficient rainfall - so we need irrigation," he said. "Large investments are necessary in new irrigation systems, in order to replace the insufficient rainfall in Dobrogea region, so that high crop output may be obtained."
Nevertheless, Juganaru also stressed that, until now, Constanta county has only one industrial Park in Mangalia. "In our priorities, of the Chamber of Commerce, together with the County Council, is to have a second industrial park in Constanta country as soon as possible. And a lot of new elected mayors are ready to offer in their community fiscal facilities attracting investors to Constanta. One of the biggest problems we have to solve in Romania in the future is to create new jobs. More than four million are working abroad."
In Constanta county, there are nine active Czech-capital companies involved in electricity production, consultancy in business and management, wine grapes production and construction works. The largest investor by far is CEZ Romania, which has achieved a wind farm in the north of Constanta, including two stations at Fantanele and Cogealac. The project started on 30th November, 2012 and generated an investment of 1.1 billion Euro. With a total output of about 600 MW, it is the largest project of this kind in Europe.
"CEZ is the largest investor in Constanta, but we are waiting for more Czech companies to be present in our county," he said. "We will give you all our support to create a new company and all the legal advice you need."
Czech investments, 0.61 per cent of the total foreign investments in Prahova county
Prahova county counts 137,530 employees engaged in economic activities, while the unemployment rate is 4.26 per cent as of August 2016. There are 21,975 companies registered at the Trade Register in Prahova county, active in the following sectors: 54.4 per cent in industry, 20.2 per cent in commerce, 15 per cent in services, 6.2 per cent in constructions, 2.85 per cent in agriculture, 1.1 per cent in tourism and 0.03 per cent in research and development.
In terms of companies with foreign capital, Prahova has 1,977 registered, of which Italy counts for 25.64 per cent, Germany - 9.31 per cent, Turkey - 7.64 per cent, France - 5.41 per cent, Great Britain - 5.01 per cent and Cyprus 4.25 per cent. Below four per cent, one can include Greece, Spain, the Netherlands, Austria, Moldova, U.S.A, Belgium and China.
There also are 12 Czech companies in Prahova county, according to the National Trade Register Office. "Czech investments represent 0.61 per cent of the total foreign investments in Prahova county, the Czech Republic ranking 25th by number of companies with foreign capital," Mihaela Hristache, director of the Internal and International Relations Department, Prahova Chamber of Commerce and Industry, said during the event. "The main opportunities they can find here include constructions in the oil and gas industry, hydropower plants, industrial and electrical equipment, textiles and partnerships for shared access to European funds."
Hristache added that among the advantages of Prahova for potential investors one can find is proximity to Bucharest (60 km), the proximity of Ploiesti [the county seat] to Otopeni International airport (40 km), a consumer base of nearly one million people (second largest in Romania) and the developed infrastructure (348 km of railway and 2,198 km of roadways). Hristache also mentioned that in Prahova county there are ten industrial parks, of which five are public-owned and five are private.
The director further described Prahova county as the core of the Romanian oil industry. "Ploiesti is the capital of all oil-related activities in Romania and one of the most important technological and petrochemical research and educational centres in the world," she said. "Prahova county has four oil refineries, of which three are located in Ploiesti. In addition, one can find there the Oil - Gas University, unique in profile across South-Eastern Europe, operating in Ploiesti since 1967."
Speaking about the main sectors of the county, Hristache mentioned agriculture, as Prahova county has 269,449 hectares of agricultural land. There are 589 companies active in this segment, operating with either public or private capital. The main agricultural products include wine, meat and meat products, dairy products, cereals, vegetables and fruits. Prahova also has a large potential in terms of viticulture and winery. The vineyards and vine nurseries occupy 8,235 hectares, around three per cent of the agricultural surface and 1.74 per cent of the total surface of Prahova county. In addition, the surface of grape-producing vineyards count for 7,714 hectares.
"Prahova county is known as the ′country of red wines′, due to its production of the best red wines in Romania," she said. "Dealul Mare Vineyard, situated in the Curvature of the Meridional Carpathians, with pedoclimatic conditions very similar to those in Bordeaux Region (France) has important winery centres. Viticulture and winery represent a significant percent of the economy of Prahova county."
Tourism is another asset of Prahova, developed due to the landscape and various relief. A lot of branches of tourism were developed in the region such as mountain and winter sports tourism, hunting tourism, wine tourism, agritourism, cultural and historical tourism, as well as health and SPA tourism.
Romania, heading in the right direction
Czech-based CTP, a full-service international developer specialized in delivering and management of high-tech personalized business parks, started in the last two years to expand rapidly on the market by acquiring different business parks, mainly logistics, reaching a total lettable area of around 375,000 sqm. This year, the company continued its expansion, not through acquisitions, but through greenfield investments, especially on the plots it had previously acquired. This November, the company announced a new building in the CTPark Bucharest West, with an area of 60,000 sqm, following an investment of 35 million Euro.
Dan Flesariu, finance and operations manager at CTP Invest Bucharest, disclosed during the event that, although the local real estate industry is challenging, Romania is heading in the right direction. "Romania′s real estate market is challenging," said Flesariu. "Compared to the Czech Republic, Poland or other countries coming from the same political background, the title of the land, especially the agricultural land, which we use most in our business, is very difficult to be clarified in Romania. The chain of titles is not so certain in many cases. However, in terms of future development, I think we are on a good track and I am not talking from our point of view, but from a general point of view, in terms of how this country has evolved in the respect of procedures and regulation. Things are getting easier, and going the way they should go."
Vladimira Novakova, the managing director of Green Gate Development, the company through which S Group developed the Green Gate office project in Bucharest, has also noticed a positive progress of the local market compared to four-five years ago. "We are now preparing other projects and I certainly see a major, positive progress in communication with the authorities and the permit process in comparison with 2011 and 2012 [when the company started developing Green Gate]," she said. "Nevertheless, speaking about the market, I see a pressure on rent, while the clients expect the same, if not a higher quality. So, obviously, the profits are shrinking. However, we still believe in the market, we still believe it is a good place to be and invest in, as there is space to grow in comparison to other capital-cities of other countries."
Among the participants, there were also Milan Peprnik, Counsellor-Minister at the Embassy of the Czech Republic in Bucharest, who thanked all participants, speakers and partners. "Thank all of you for being at the second edition and I hope we will cooperate next year again, with other themes that could be of interest." Frantisek Zachoval, director of the Czech Centre in Bucharest, an institution that plans to promote and boost the image of the Czech Republic in Romania, also took the floor to present the activity of the centre, adding that: "Culture is a medium which you can use really effectively if you want to invest in presenting yourself."
The moderator, Philip Smitka, associated partner, Noerr, Prague Office, concluded that Romania is seeing progress year by year and, in order to increase the Czech investments on the local market, a joint effort is needed. "Romania is a stable and reliable country for Czech investors," he said. "Of course, there are certain challenges, but these can be found anywhere. The Czech Republic is number 14 within the ranking of the cooperating countries with Romania and, in order to be in the top five, we need a joint effort and we need to work hard."