Liceul Teoretic International de Informatica Bucuresti - An authentic model of education
In every family, the problem of choosing the best school is essential and argued about for a long time because school years are defining for the development of the early adolescent. We all want a better world and if we long for a society based on values such as respect, and professionalism then, it is of great importance to invest in children's education, paving their road in life so they could explore as many horizons as possible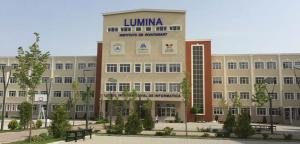 Liceul Teoretic International de Informatica Bucuresti was founded in 1995 by Lumina Institutions of Education. It is a private establishment accredited by the Ministry of Education and Scientific Research based on the national educational curriculum. The medals earned every year by the students, the wide range of extra curricular activities the different approach to the educational process have made it possible that in a very short period of time we could become the best private school in Romania. Due to the best results, we not only take pride in the highest number of students but also in the fame that our school has gained among other schools in Romania.
As an educational institution we took the commitment that we will offer our students the chance to study in a highly standardized educational system, being taught by carefully selected teachers, dedicated to an academic career and preparing students so that we could discover and value their entire potential.
We offer a lot of attention to the students′ interest in their favorite objects of study and every year our students who are prepared by dedicated teachers distinguish themselves by participating to contests and Olympiads, and have gained experience and very high positions. We support our students, help them discover their inclinations and develop their qualities.
To support this, we can enumerate children′s exhibitions to different drawing contests, their artistic performance to different music competitions, the plays skillfully performed, their participation in sports competitions where all competitors are winners thus developing the appetite for competing. In the educational year 2016-2017, our students together with their teachers have had exceptional results at the national Olympiads. In secondary school our students have gained 58 medals, 25 prizes and certificates of merit and in high school they obtained 78 medals and 4 certificates of merit.
Starting with the 9th grade, according to their aptitudes and skills the students have the possibility of choosing either a real profile (Mathematics, Informatics, Physics, Chemistry, Biology) or philology. In high school, the students have the chance to study sciences (Mathematics, Informatics, Physics, Chemistry, Biology) in English which will be very useful not only for the graduates who will apply for scholarships at foreign universities but also for the ones that choose to study in the country.
The school is equipped with laboratories, a library, a festivity room, a canteen, all successfully aiding the teachers′ work and assuring a highly qualitative standard for the entire educational process that takes place at Liceul Teoretic International de Informatica Bucuresti. Furthermore, we offer the children a secure and civilized scholastic environment and a collectivity where they can undergo a lovely growth. We have a large number of interactive clubs, an after-school program where children are guided by the specialized teachers and we ensure extra hours of study for the National Tests and the Baccalaureate Exam.
Our students are encouraged to participate in the preparation programs for the best results at the national and international Olympiads. In Romania there are a lot of well-endowed children and their improvement represents Romania′s opportunity for a better future. As proof, every year Romanian students gain important places in the International Olympiads. The school′s mission is to discover these talents and aid them to reach their maximum potential of growth.
Liceul Teoretic International de Informatica Bucuresti started participating at Olympiads in 1994 and in 1995 the first student qualified for the National Physics Olympiad which brought great joy and pride to teachers and parents. Liceul Teoretic International de Informatica Bucuresti has dealt since then with the preparation and encouragement of Olympic students and has put together a specialized team of teachers to serve this purpose. Our high school has now over 700 medals and national prizes and over 300 international medals, obtained in just 20 years of participation to Olympiads. Our teachers are dedicated and devoted to their work because they are aware of the role they play in the development of Romania′s future. Therefore, they work restlessly from dusk until dawn sacrificing their free time or weekends to overcome the standards they accustomed their students to. Taking into account the high number of Olympic students the school′s atmosphere is a motivational one and students acquire the values of loyal competition early in life. Hence, they are often present at the Student Council where they have the opportunity to involve themselves in projects meant to highlight a large range of abilities. General culture is also considered an important value because other objects of study are not at all neglected.
Students always have a psychologist at their disposal that can offer guidance whenever they need and a Career Counselor that offers the necessary support to apply to prestigious universities like: Harvard, MIT, Oxford, Cambridge, Pittsburg. As a matter of fact Liceul Teoretic International de Informatica Bucuresti has already acquired fame among these universities because 20 students matriculate every year which is also owed to the great results obtained each year by the high school at the National and International Olympiads. Every year, Liceul Teoretic International de Informatica Bucuresti students have been awarded at the Olympics Gala by the Government. The high school which occupies second position obtains therefore only 15 of these medals over a year. Likewise, Liceul Teoretic International de Informatica Bucuresti received every year an excellence diploma awarded by the Ministry of National Education for the efforts put into the preparation of the Olympic students.
Except for performance at school, our students have numerous passions and hobbies. These are very important and we have to help them discover these interests. At the same time, they need some activities that could broaden their horizon of knowledge and offer them support to enjoy themselves studying. Therefore, the educational process also inhabits the forms of primary need of children to grow simultaneously on an intellectual and physical level or just to fathom a certain object of study or knowledge by the numerous options that our students have at their disposal. The range of clubs that we offer is very wide - theatre, journalism, piano, canto, chess, football, handball, basketball, table tennis, literature, English, mathematics, robotics and many more.As an educational institution we took the vow of offering our children the chance to study in a highly standardized environment, guided by a staff of teachers carefully selected and dedicated to their academic career so that we could unveil and value their entire potential. Both at an educational and social level, we infuse our children values such as honesty, tolerance, compassion and responsibility.